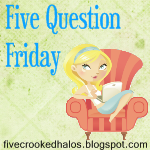 Join My Little Life for Five Question Friday!
1. D
id you do anything special for your kids on the last day of school? Or did you parents do anything special for you?
Kids are not in school yet. My parents never did anything special.
2. W
hat's your favorite summer tradition with your children?
Swimming, picnics and park visits.
3.
What was your favorite thing to do during the summer as a kid?
Swimming and going to Dollywood
4.
How old were you when you were married? Were you a Bridezilla?
28. We had a very small low-key wedding so, nope not a Bridezilla.
5. W
hat is your favorite girl name? (I'm needing suggestions.)
When I was growing up, it was Aubrey.
Pin It